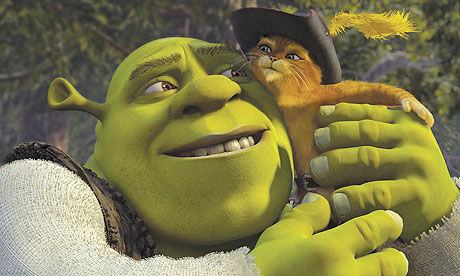 Shrek's Far Far Away Adventure will be one of six similar sites across the globe. The attraction is due to open in summer 2015 and will celebrate the four-film animated fantasy saga about a grumpy green ogre that has so far taken more than $3.5bn at the worldwide box office, as well as other films from DreamWorks Animation.
"The 20,000-square-foot experience will be based on a brand-new adventure being written by the DreamWorks team," said the studio and partner Merlin in a statement. "It will feature a Shrek interactive walk-through adventure, a character courtyard where visitors will be able to meet Shrek and his swamp friends, along with characters from Madagascar, Kung Fu Panda and How to Train Your Dragon."
The attraction will be installed at County Hall, near the London Eye, the London Sea Life Aquarium and the London Dungeon, all of which are owned by Merlin. The theme park operator is the largest company of its kind in Europe.
The London Shrek attraction will be the first to open, with a further five sites set to be built between now and 2023.
The most recent Shrek film, Shrek Forever After, took $752m globally in 2010 despite lukewarm reviews.