Foreign secretary William Hague backs claims by MI5 and MI6 that NSA disclosures have endangered UK's national security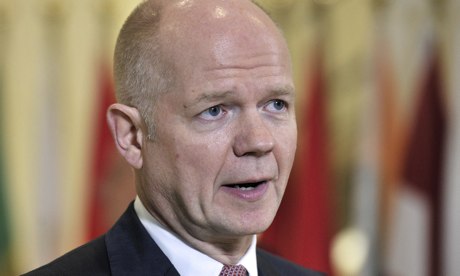 But despite the former defence secretary Liam Fox writing to the Crown Prosecution Service asking whether there is a case for legal action against the Guardian, the two ministers sidestepped questions about whether they would like to see a prosecution.
"Action against any particular media outlet in any particular country, unfortunately, is not going to reverse the damage that has been done," Hammond said on Sunday.
Speaking on Sky News, he said: "Have the Snowden revelations damaged our ability to fight terrorism and keep Britain safe? Undoubtedly they have. Anything that gives away the tradecraft, the methods, the methodologies of the security services and the agencies is, of course, hugely valuable to those who wish us harm."
"The Snowden allegations, let me put it that way, certainly have endangered our national security, made it harder for us to protect our country and other countries from terrorist attacks.
"By speculating about our capabilities, it makes it easier for people who want to evade interception but are seeking to damage our country, or kill people, it makes it easier for them to evade interception. That is something that is very, very serious, and very damaging."
Hague said that the intelligence services operated in a "very strong and robust legal framework".
He continued: "That is the political and legal framework in which these decisions about intelligence are made. Are they made in much larger groups? Well, no they're not. That's because so much of what we do has to be so secret."
Asked if the Guardian should be prosecuted, both Hague and Hammond said that was a matter for the attorney general. Hammond also questioned whether a prosecution would make much difference. "The cat is out of the bag," he said.
But his predecessor, Liam Fox, has written to Alison Saunders, the new director of public prosecutions, about the matter. Referring to reports that some leaked material obtained by the Guardian contained details of GCHQ agents, Fox said in his letter he would like to know whether passing this information "to foreign journalists and bloggers" constituted an offence under the Terrorism Act.
"We have consulted regularly with the DA-notice committee, Downing Street, the White House and the intelligence agencies, giving them time to raise concerns and flag up anxieties. We have listened carefully to the arguments made to us, agreed not to publish certain things, and redacted all names and sensitive operational details.
"That said, we understand that some people will always warn that any form of disclosure has a damaging impact on the work of the security services – but this cannot mean the end of all questioning and debate."