For the
seventh day
this month, Shanghai officials have warned children and the elderly to stay inside in a city where 24 hours exposed to the off-the-charts pollution would have hazardous consequences to one's health. Hundreds of flights and sporting events have been cancelled, while face masks and air purifiers sold out in stores. All week, the pollution level hovered at "heavily" and "severely" polluted, according to
Shanghai's Air Quality Index
, at
up to 31 times
the recommended levels.
Eerie photographs of Shanghai show a city in a yellow haze: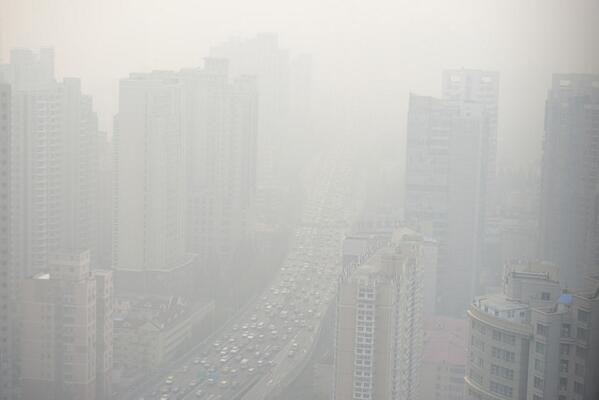 CREDIT: LENINERS ON FLICKR
This image from the city's
official index
shows PM2.5, a small harmful particle for human health, at a concentration that almost broke the scale China uses to measure air quality, a range from 0-500.
A heat map from a
Greenpeace analysis
of NOAA data shows how the smog has traveled from coal-burning regions into the city. Orange shows the highest concentrations of sulfur dioxide (SO2) and the pollutant's trajectory. The sources come from coal regions Jiangsu, Anhui, Shandong and Henan.
What is China, and the world, doing to cut the sources of debilitating pollution?
In 2013, China has doubled its
renewable energy sector
, accounting for over half of new power capacity. Recognizing more recently that renewable incentives must be paired with consequences for fossil fuels, China
is launching
its first carbon trading scheme and more transparency of public health trends.
Presidents Barack Obama and Xi Jinping have also announced they will seek to eliminate potent greenhouse gasses and to
phase down
the consumption and production of hydrofluorocarbons (HFCs). With Vice President Joe Biden is in China this week, the U.S. and China discussed a more aggressive approach to
lowering vehicle emissions
.
Until China's air problems improve, it is taking
more than five years
off the lives of northern residents.
FRIDAY, DEC 6, 2013 09:34 AM EST
Flights canceled as record air pollution chokes Shanghai
The highest possible health warning has been issued for the city
The concentration of PM 2.5 particles, which pose the greatest risk to human health, reached
602.5 micrograms per cubic meter
Friday afternoon. The U.N.'s caps the safety limit at 25 micrograms. Real-time updates on cities' readings can be found
here
.
The smog has been building all week. Shanghai's marathon took place Monday to "severely polluted" air quality,
likely harming participants' lungs
. By Friday, all public sporting events had been canceled.
This
is how bad things have gotten: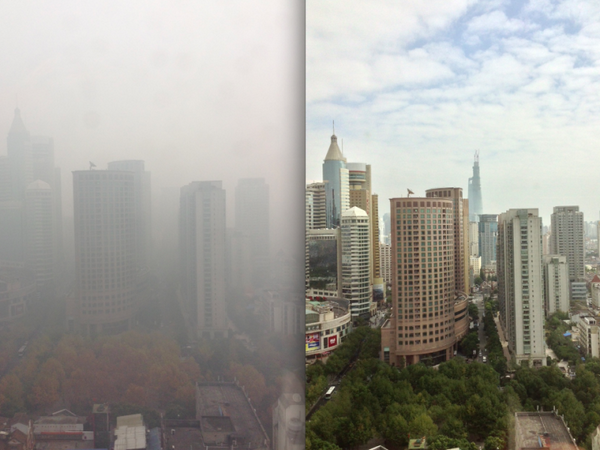 One Reddit user
posted
the view from outside his or her apartment yesterday, to which another replied, "Not sure that even qualifies as air any more…":
---
---
Most of the pollution,
Greenpeace's Energy Desk
explains, is coming not from within Shanghai but from heavy coal-burning regions — mass air movement is carrying the fine particulate matter into the city. Car exhaust is also contributing to the problem; as PM 2.5 reached hazardous levels, officials halted all construction projects and pulled 30 percent of government vehicles from the road.