Earthquake memorial date named
By Derek Cheng
Breaking
4:45 PM Monday Mar 7, 2011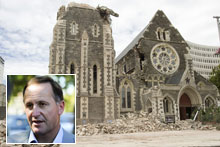 The date for a National Memorial Service to honor victims of the Christchurch earthquake will be March 18.
The service, which will be held in North Hagley Park, is being organised by the Christchurch City Council and the Visits and Ceremonial Office with wide consultation from the community and families.
"The service will give people the chance to reflect on the terrible loss of life suffered as a result of the earthquake, and the huge impact it has had on our second largest city.
"This is an opportunity for Christchurch to mourn together. It will also be a chance to celebrate the lives of those who have been lost."
The service will begin at 12.45pm and two minutes' silence will be observed at 12.51pm.
Mr Key has also announced that the day will be a provincial holiday so the people of Canterbury can attend the National Memorial Service. Legislation will be required to do this.
"While we will never forget those who have been lost, we must now focus that indomitable Canterbury spirit on the future.
He also said up to 10,000 houses would have to be demolished in Christchurch.
In addition, a further 100,000 were damaged.
Mr Key had also received an update on portaloos and the chemical toilets.
"What is clear is we don't have enough ... that situation is being rectified as quickly as possible by bringing in more from overseas.
"However there is no evidence that they have been allocated on anything other than the basis of need."
- with NZ Herald staff