Australia's debt ceiling: the right decision, but with a touch of irony
In opposition, treasurer Joe Hockey threatened to block a $50bn increase, but how times change ... now he is raising it by $200bn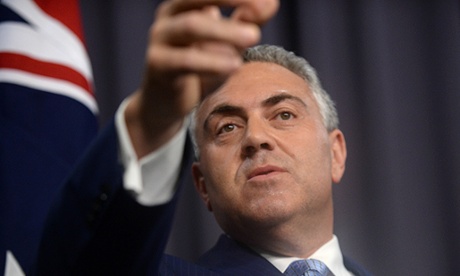 Now he gave some quite sensible reasons for this decision. He noted that the current debt ceiling would be reached on 12 December. As a result he suggested, "We need to move quickly to deal with this, particularly in the wake of what has been revealed in the United States in recent times."
The December debt ceiling date is no surprise. It was known when the budget was released in May, but the former government in its infinite foolishness, decided not to raise the ceiling for fear of looking like it was maxing out the "credit card" prior to the election.
The reason for their fear was due to long run attacks by the Liberal party – notably Joe Hockey – that raising the debt ceiling was a sign of economic mismanagement.
Joe Hockey wasn't alone among his Coalition colleagues in his views. Tony Abbott noted last year that: "If the government really thinks that a surplus can be delivered, as opposed to being merely forecast, why is it proposing to add a further $50bn to the Commonwealth's debt ceiling?"
Suddenly it seems increasing the debt ceiling by not just $50bn but $200bn is not a sovereign risk issue, nor a sign that the government is not going to make savings, nor that the government is unable to curb its "debt addiction", nor that the government cannot deliver a surplus.
Now Joe Hockey tells us that "what matters is not the debt limit". What is important is just the "level of debt" and that "the credit rating is what matters".
But the Treasurer's reasoning is correct — we should wish to avoid a US-style debt ceiling fight.
The only way that could possibly happen is if one side of politics blocked the increase, and the only side of politics suggesting anything like doing that was Hockey's.
Watch what he does, not what he says, I guess.
But despite the utter hypocrisy, it remains a very good decision.
The debt ceiling should never be a political fight. In the first place it is an arbitrary number — and increasing it does not affect the way market views Australia's debt position. No one thinks a debt ceiling is any real ceiling, because just as it was arbitrarily set, it can be arbitrarily raised.
All the debt ceiling ends up becoming is a political football used by the opposition party to suggest the government are profligate spenders.
If a party is so stupid as to actually threaten to block an increase you get a situation like what happened in the USA. With an economy already just limping along, the fight over the debt ceiling destroyed confidence in the economy:
So Joe Hockey is right to ensure Australia avoids such foolishness. Wayne Swan should have had the courage to do the same thing when he was Treasurer. The only problem is had he done so, Joe Hockey would have likely threatened to block it.
To the victor go the spoils and also the irony.