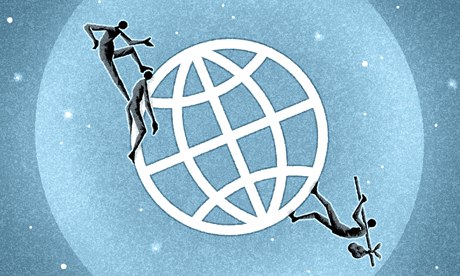 But nobody is deterred. In a variation on the adage "Do you want to be happy or do you want to be right?", the trade-off in immigration rhetoric is: "Do you want to be heeded or do you want to be right?" Entry to the mainstream of migrant discourse relies upon one's readiness to make up stupid statistics and idiotic publicity stunts. Factual refutations – migrants don't cause the NHS to collapse, they hold it up; migrants are not net recipients of public money, but net donors – make no dent on the contours of this landscape.
Anderson makes these crucial points: the migrant everybody worries about isn't the person on £120k, who has freedom of movement anywhere in the world. We're really talking about the global poor: "The migrant is seen as being too mobile, they really should stay in their own country. Whereas the British national is seen as not mobile enough. If you think about the imagery, they're always stuck on their sofas, in front of their flat-screen TVs."
Once we recognise the fear of migrants as the fear of the poor being allowed freedom of movement, we see its roots not in the earliest immigration laws, but in the earliest vagrancy laws of the 14th century. The three preoccupations were the labour market (what the roaming poor would do to wages); social cohesion (what the "masterless man" might be capable of); and freeloaders (the giving of alms to capable workers).
The conversation now is set up as a straight fight between the British poor, who belong here, and the migrant poor, who don't: "They're positioned as competitors for the privileges of membership. The low-waged are trying to hang on by their fingertips and try to push everybody out. Very often you're tolerated if you try to push other people out – if you're the hard-working immigrant, and you're better than those benefit scroungers. Or you're a hard-working citizen, and you've had your job stolen by these immigrants."
The same rhetoric that divides "migrants" from "citizens" also divides "citizens" and "taxpayers", in a sort of child-parent dichotomy (the citizen has rights, the taxpayer pays for them).
These are all deliberate verbal and policy strategies to segregate citizenly rights and sense of belonging by income, so that the more you earn, the more rights you have and the more you belong here. The colossuses of the made-up migrant statistics aren't really afraid of foreigners; they're afraid of the mobile poor, as well they might be.
• This article was amended on 23 October. The reference to UK immigrants in the opening paragraph was changed to "EU migrants to the UK".