JP Morgan facing third quarter loss after $9.2bn legal costs
US bank hit by London Whale trading fines and legal penalties over sale of sub-prime mortgages that could yet reach $11bn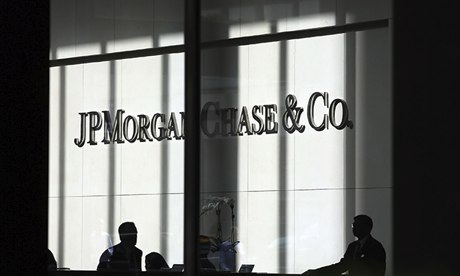 As a result of ongoing discussions the bank took a $7.2bn legal charge – or $9.2bn before tax – which led the bank to report a loss of $400m for the quarter compared with a profit of $5.7bn the same time last year. It is the bank's first quarterly loss for eight years.
Jamie Dimon, the chief executive who is under pressure after the latest scandals, had held meetings personally with the US attorney general Eric Holder in an attempt to reach an agreement that could include $4bn of payments to consumers and $7bn of penalties.
Dimon said a strong performance had been "marred by large legal expense".
"We continuously evaluate our legal reserves, but in this highly charged and unpredictable environment, with escalating demands and penalties from multiple government agencies, we thought it was prudent to significantly strengthen them," he said.
He said the legal costs should "abate and normalise over time" but warned they could be volatile for the coming months and admitted that the bank was yet to reach an agreement over the mortgage-backed securities.
"The board continues to seek a fair and reasonable settlement with the government on mortgage-related issues – and one that recognises the extraordinary circumstances of the Bear Stearns and Washington Mutual transactions, which were undertaken at the request or encouragement of the US government," Dimon said.